Elkin Creek Vineyard
The site of a historic grist mill built in 1896, and gracing a special spot where two creeks join together to become one, Elkin Creek Vineyard is a one-of-a-kind destination. Located one hour north of Charlotte, it is a hidden gem in the heart of the Yadkin Valley. Guests can experience wine tastings in a warm and inviting tasting room, enjoy wine selections as they stroll by a gentle waterfall, or sit in a creek-side swing by the fire pit. Every Sunday, our kitchen offers lite fare such as an antipasto plate, homemade artisan bread, or our special Sunday treat of hand-made-to-order pizzas baked in an authentic wood-fire brick oven. The property includes four private cabins with luxury amenities. Elkin Creek Vineyard is also available to host your wedding or special event.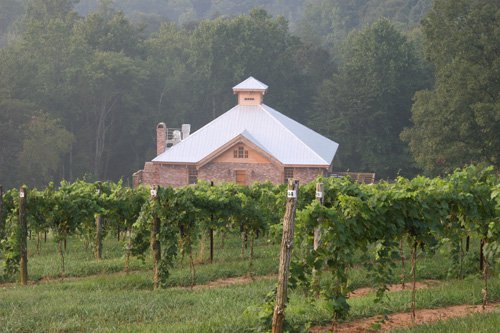 Plan Your Visit
Hours and/or Seasons
Thursday-Sunday 11am - 5pm
Hours may vary. Please call ahead to confirm this winery will be open when you arrive.
Amenities Offered
Handicap accessible
Picnic area