Thistle Meadow Winery
Born out of a successful winemaking supply business, this family owned winery is just two miles off of the Blue Ridge Parkway. The wine list includes a wide variety of wines - reds, whites, and blushes - ranging from sweet to dry - so you're sure to find a wine that matches your taste. Our tours include tastings of wines made from grapes grown around the world.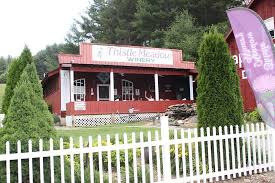 Plan Your Visit
Hours and/or Seasons
Year-round
Hours may vary. Please call ahead to confirm this winery will be open when you arrive.
Amenities Offered
Tours – guided